Lunartik "I C U Can't Spell" Up For Auction
Feb 7, 2008 Author: Tahir | Filed under:
Artists
,
Kidrobot 8" Munny
,
Large Vinyl Toys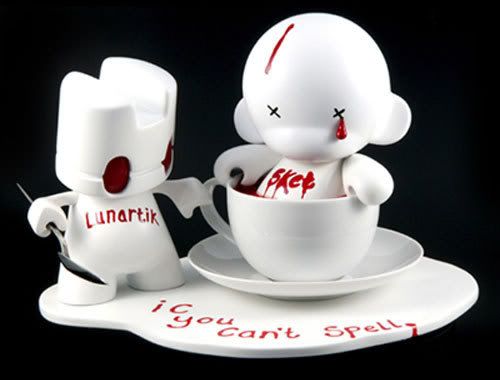 "I C You Can't Spell" by Lunartik JOnes [View Auction]
Custom Munny + Lunartik in a cup of tea.
Lunartik was inspired by a miss spelling on the Munnyshot flyer…
I wonder who spelt my name wrong! hehe
TOY SPEC:
– Lunartik Custom Munny with spoon in hand.
– Munny melting in blood red tea.
– Signed by Matt JOnes + Sket One !
– Sket's signature on the back of the munny's head!=20
– Ships in a box + Free plug Stickers.