We had the pleasure today to attend the launch party of TADO's newest series today, decease Lily: The Littlest Cannibal presented exclusively at Magic Pony in downtown Toronto. We blogged about the upcoming event not too long ago on our blog, so here's the review!
(more…)
Event Name: Broken Hearts and Stolen Souls
Event Date / Duration: June 13th – July 13th 2008
Official Website: www.myplasticheart.com
Custom Type: Various
Event Story: Brent Nolasco brings his unique style to myplasticheart with his first New York City solo show. Featuring an extensive line of customs and paintings showcasing his amazingly detailed artwork that needs to be experienced in person to fully appreciate.
Photos Provided By: www.myplasticheart.com
Interview with Erick Scarecrow and coverage of first ESC-TOY Custom Soopa Show at Concrete Jungle in NYC by Albotas
View all toy images at the ESC-TOY Flickr and buy a custom Soopa at the ESC-TOY Store
Apr 1, 2008 Author: Tahir | Filed under:
Events & Exhibitions (SEEN)
,
Large Vinyl Toys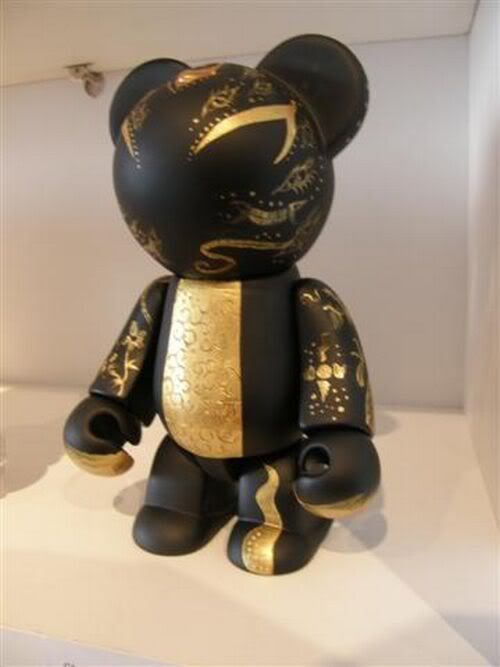 Bear Bear designed by Charlene Chua (Toronto)
The Bax Bears Series 1 had their official launch in Toronto last Friday on March 28. The event itself was held at the Keep Six Contemporary Gallery in downtown Toronto. The gallery featured 200+ custom-designed Bax Bears from all around the world but also included designs from local artists based on the DIY Bax Bear! Many of you may have seen the bears that were on display in Vancouver last year at El Kartel on November 10th. The showcase of the bears will be on display for two weeks until April 6th, drugs so for those of you who live in Toronto, you have to take a look!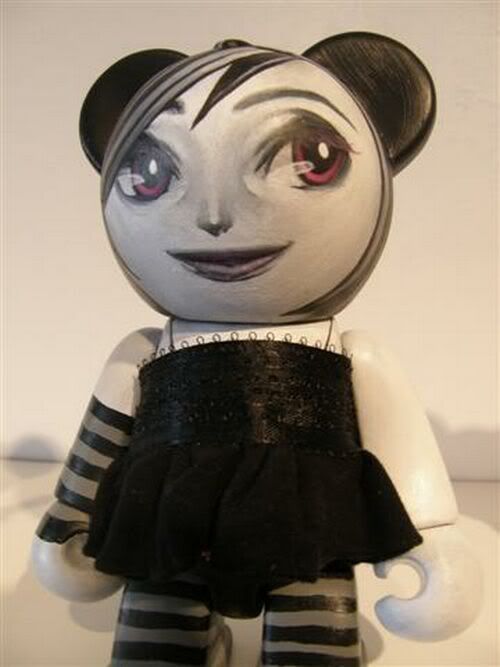 Bax Bear designed by Yukiko Otsu (Toronto)
As for the showcase, the beginning of the gallery started off with beautifully designed Bax Bears from artists in Toronto. Artists such as Yukiko Otsu and Charlene Chua were one of the many locally designed Bax Bears that were up for show in the gallery.
First part of the Bax Bear gallery at Keep Six Contemporary Gallery
Artist Name: NIARK1
Artist Website: www.niark1.com
Artist location: Paris, rheumatologist
France
Toy Type: UNKL SUG
Toy story: SUG custom for an exhibition in Netherlands, one Health
Dutch Design Week. View progress pics here.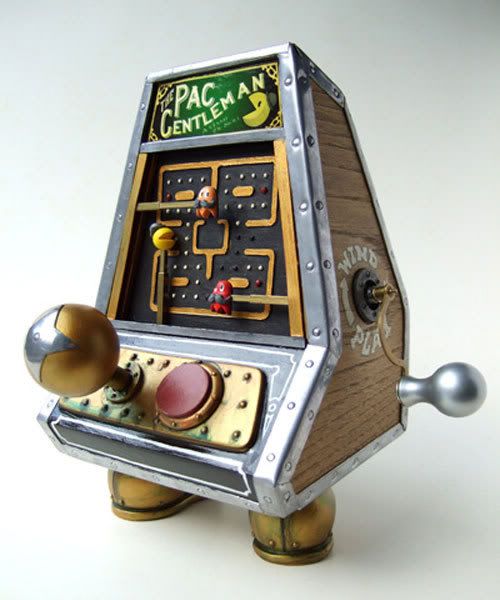 Spit & Polish was something all custom toy fans have been dreaming about for a very long time. Doktor A finally got the solo show he deserves and boy did he live up to the expectation with some magnificent custom pieces. The highlight of show for me is the custom Soopa Coin Op Bros titled "The Secret History of Video Games: Pac Gentleman".
This is what Doktor A had to say about the piece;
"When this game was first released in 1880 it was so hugely popular in taverns and inns that the bank of England was forced to mint more threepenny bits to keep up with demand. The game was created by messrs Nam & Nam and Co. as a novelty pastime for the masses. Outdoing the previous top public house game of Shove Ha'penny. "
Check out the rest of the customs below and any custom toy artists out there take note. The show runs until Nov 31st at Cardboard Spaceship in California, online USA.
Oct 16, 2007 Author: Tahir | Filed under:
Events & Exhibitions (SEEN)
,
Large Vinyl Toys
Artist Name: Doktor A.
Artist Website: http://www.spookypop.com
Artist location: The Pennine Mountains, visit
UK
Toy Name: Helpers
Toy Type: Helpers
Toy Available for sale: No.
Artist available for custom toy commission: No, not currently.
Super 7 Halloween Monster Mash
Super 7 Store
San Francisco, viagra 40mg
California
Featuring the custom figures of a variety of artists from both sides of the Pacific! Western and Eastern artists come together to create the coolest collection of customs ready to haunt your shelf for the month of October.
[Images via Chris Hunter]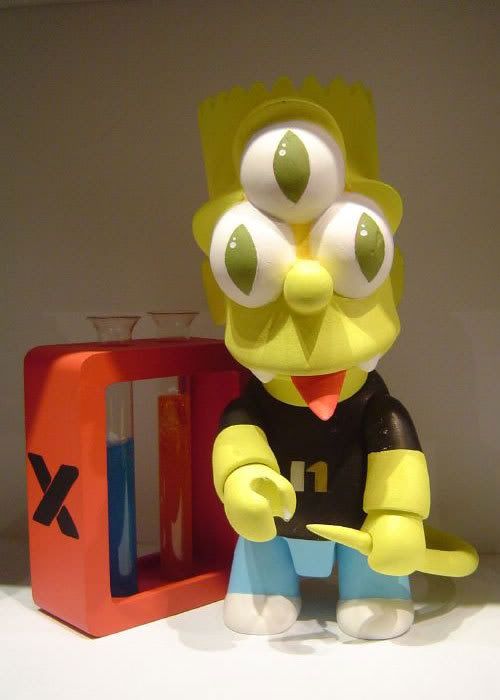 The Custom Bart Simpson Qee World Tour curated by Toy2r took place at various stores and galleries through out the world. Luckily the customs have been caught on tape on camera… and what an amazing custom toy tour it has been. Featuring tons of amazing artists creating their very own 10″ Bart Simpson Qee it is extremely fascinating to see everyone transforming a much loved character into something out of their dreams or nightmares.
EDIT: The Tour is coming to the Forbidden Planet Megastores in London and Bristol from 9th Oct – 4th Nov 2007 for all you UK vinyl lovers. [Thanks Danacea]
For more info and images on the tour visit Toysrevil.
More images on flickr – visit Sichi and jw1976 [images via jw1976]