Battle Damaged Mad*L – Riot68
Jun 9, 2008 Author: Tahir | Filed under:
Artists
,
Large Vinyl Toys
,
Mad*L
,
Riot68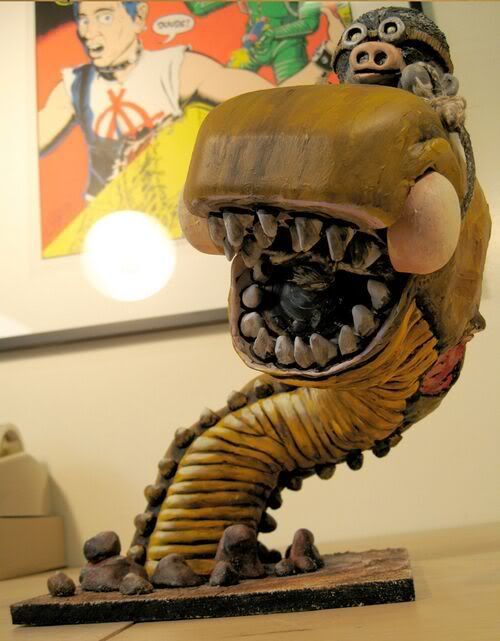 Artist Name: Brian Colin
Artist Website: www.codedecoinc.com
Artist location: Atlanta, seek GA
Toy Name: Riding the Worm
Toy Type: Munny Mobile
Toy Story: The hiss of combustible air sizzles through the valves of the giant balloons much like the pressure of excitement which has built up inside of me anticipating this glorious annual event. Tonight is the anniversary of my people's exile from the greener pastures of our great world, emergency and not just any anniversary, it is the centennial! One might think that being forced from their home would not be something to raise a glass to. For us it was not exile, no, it was the opportunity to have free reign over an entire desert. We would no longer have to ask permission to conduct our scientific experiments, and thankfully so I might add. If it were not for coming to this wasteland we may never have been introduced to such a wonderful specimen as the Giant Worm. Not only is it extremely fun to lasso one up and ride, but we can also extract combustible gas from it's waste to power our giant flying balloons.
Toy Available for sale: No
Artist available for custom toy commission? YES, Contact artist through website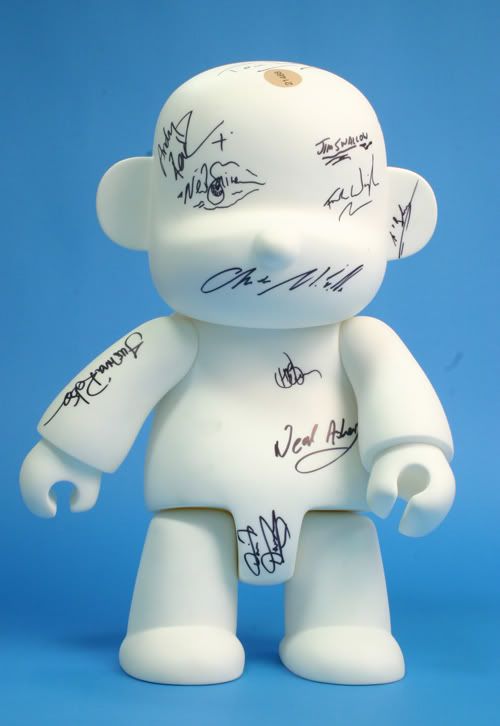 Artist Name: Neil Gaiman, troche
Charles Stross, emergency
China Miéville, help
Bryan Talbot, Tanith Lee, Freda Warrington and many others.
Artist Website: forbiddenplanet.com/promo/monqee/
Artist location: London, UK
Toy Name: MonQee MagiQ
Toy Type: 12" MonQee
Toy Story: Check out www.flickr.com/photos/danacea/
Toy Available for sale: Yes, Will be Auctioned by Forbidden Planet (London) for the Match It for Pratchett appeal and Alzheimer's Research Trust.
Artists available for custom toy commission? No, this is a totally unique, one –off design.

Signed by some of the biggest names in science fiction and fantasy, the MonQee is a project by Forbidden Planet to raise money for, and awareness of, the Alzheimer's Research Trust. He has Terry Pratchett's personal approval and he's been through some pretty wacky adventures – including having every part of his anatomy signed!
He's finally come to rest in the art toy cabinet at the Forbidden Planet London Megastore.
MonQee MagiQ is a first; a completely unique piece of urban vinyl history – and he will be auctioned through MissionFish on eBay as part of Forbidden Planet's thirtieth anniversary celebrations – watch this space for details.
All proceeds, of course, will go to the Alzheimer's Research Trust. And the MonQee, we hope, will go to a very good home – he deserves nothing less.
Ook!

Artist Info: Riot68, generic
UK [www.riot68.com]
Toy Name: Battle Damaged
Toy Type: MAD*L
Toy Story: Ravaged robots from the war that consumes our future worlds
Toy Available for sale: Nope Sold
Artist available for commission? Yes, viagra 100mg
Contact through website