The Motion of the Owl vs. Not Working – Idle
Feb 17, 2007 Author: Tahir | Filed under:
Artists
,
Cars
,
Idle
,
Various Toys
Artist Info: Squid(boy) is Shan Michael Evans, capsule Las Vegas, sick USA [www.tragicmagichead.blogspot.com]
Toy Name: Orange Labbit Death Cuthdum
Toy Type: 10″ Labbit
Toy Story: More of a stream of conscience work. Incorporating random thoughts and tunes stuck in my head while painting. Things i like about this labbit… The school girl on the ear looks like a extra toy. A word bubble was painted in to look like a worm…and rather fitting as if he's referring to bait as he dangels a stars. I think he's speaking of dirt and the body. The other side just came about…looks like the skull-creature has just painted up a heart for someone. Says "custom" with a monster lisp…"cuthdum". The school girl is quoating "riders on the storm"…a song that wouldn't leave my head untill this was compleated. I like thinking it is the customs who feel this way as well. The front does say "orange labbit death". death as in cool. HA! Stretching it a bit, I like the concept that the words on the custom state a rather bane exsistance of sorts, coupled with the worm speaker, then shares in an exchange of gifts and then spells out exactly what that is, a labbit. Really, just writting custom/cuthdum and labbit on a custom labbit was the kicker for me.
Available for sale: No
Artist available for commission? Yes, always


Rate This Toy: [ratings]
Artist Info: Wavedog, ascariasis
Madison, information pills
New Jersey [www.wavedog.com]
Toy Name: Kronk
Toy Type: 8″ Munny
Toy Story: Kronk is a warrior droid from an ancient alien culture
Toy Available for sale: Yes [Email artist to buy]
Artist available for custom toy commission? Yes


Rate This Toy [ratings]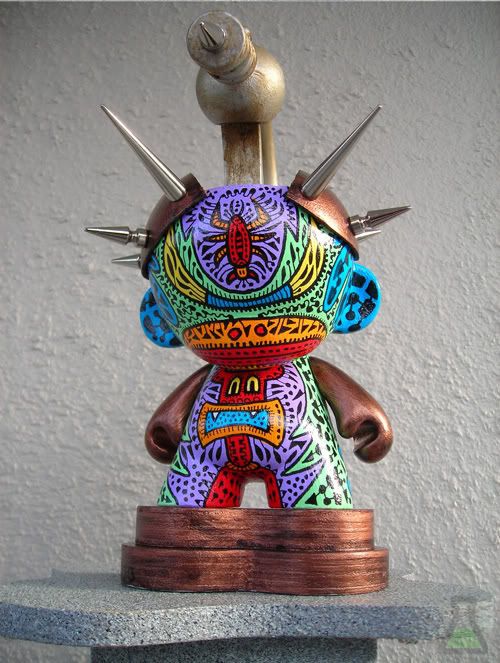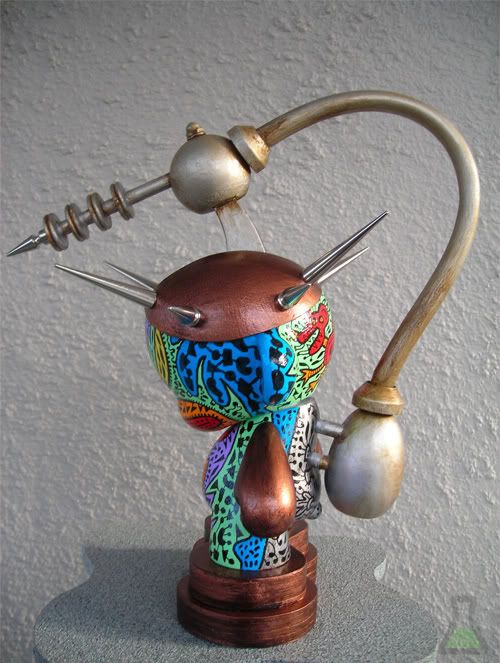 Artist Info: Idle, ailment Kassel, Germany [www.idleware.com]
Toy Name: The Motion of the Owl vs. Not Working
Toy Type: Toy Car
Toy Story: My original idea was to produce a reminder for the horrible disaster of Chernobyl back in 1986 because the car somehow brought back memories of how I was forbidden to play in the sand with all my toys due to the nuclear fallout rain. Unfortunately the idea (or muse?) turned its back on me and I had to go a different route.
Still a bit of the original inspiration remains in the text depicted on the sides as well as the "Russian" coat of arms on the front. The text on the right reads "owlmovement" while the text on the left reads "idle". Ok, possibly not quite because I used one of these simple internet translation tools…
Toy Available for sale: Yes [Email artist to buy]
Artist available for custom toy commission? Yes, Artists will be honored


Rate This Toy [ratings]