SUM – Bob Conge – Plaseebo
Oct 5, 2007 Author: Tahir | Filed under:
Artists
,
Bob Conge - Plaseebo
,
Large Vinyl Toys
Artist Name: BOB CONGE / PLASEEBO
Artist Website: plaseebo.net
Artist location: Upstate NY, website USA
Toy Name: SUMToy Type: Hand painted 1-up custom cast in translucent urethane from ORIGINAL SCULPT by BOB CONGE 8′ X 6″ X 8″
Toy Story: Synopsis of the story of Sum, vitamin written by Bob Conge, on which the character development of the figure is based. Read full post after images
Toy Available for sale: Yes, SUM figure will be available from the "HALLOWEEN MONSTER MASH" invitational custom show at the SUPER 7 STORE in San Francisco opening October 6th from 7 to 10 PM. and on line at super7store.com/community/blog.php
Artist available for custom toy commission? YES, contact artist through website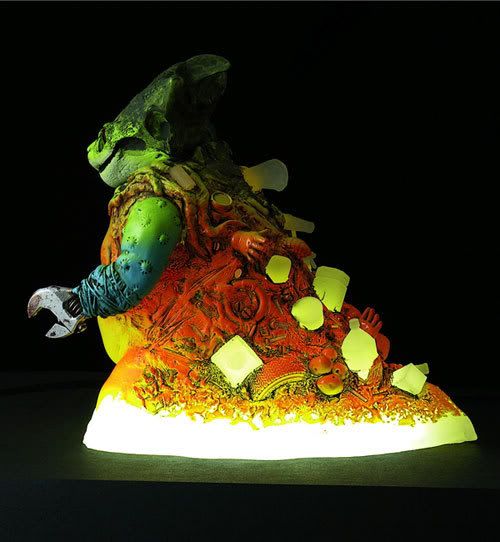 " THE LEGEND OF SUM "
[ copyright Bob Conge 2007]
Driving home from the local red neck bar one moon lit summer night, Roy swerves his pick up toward a dark shape that is slowly moving along side the road. A loud CRACK shatters the darkness as the front tire breaks the giant snapping turtles' shell in two, right down the center. The great snapper rolls down the embankment into the stream and Roy's laughing fades as the truck turns to cross the bridge to his shabby farm house across the stream. The turtle, floating belly up is carried downstream to the other side and is swept into a quiet eddy where he sinks watching the moon fade from yellow to blood red through the darkening water.
This small pool cut into the bank of the stream was at the back Roy's property and he used it as his personal dump site. The water caught in this hole became a terrible toxic soup of motor oil, fertilizer, broken toys, bones and entrails of many slaughtered animals, rusty tools and who knows what else.
Over the next few months, a strange transformation took place in this evil chowder as it baked in the summer heat. A creature of revenge, born of cruelty and neglect slid its way out of the sickening mess one dark September night.
Roy's body was never found, nor could anyone explain the slime trail from the bedroom through the field behind the house.
Over the years that followed, other neglectful farmers vanished on moonless nights and folks reported vague sightings of a creature that seamed to be cobbled together from a collection of garbage, an old doll, bone, rotted skin, and broken tools, with a large snapping turtle skull for a head. They call him "SUM".